Surface Treatment
Electroplating is a process used to change the surface properties of a metal part by adding a metal coating onto its surface through the action of electric current. The metal part to be coated is first immersed into a salt solution that contains the metal to be deposited. The metallic ions of the salt solution carry a positive charge and are attracted to the metal part which carries a negative charge.
Non-electrolytic coating involves the application of corrosion resistant materials, lubricants, and other functional materials to the surface of the objects to improve their corrosion resistance, wear resistance, and for decorative functions.
Impro is a full-service electroplating and metal finishing provider. We are one of the largest surface treatment service providers in China in terms of sales and capacity scales. Our process capabilities include Chrome, Nickel, Zink-Nickel, Cadmium, Copper, Zinc, Tin-zinc, Zinc-iron, Electroless Nickel plating, Anodizing, Chem-Film, Passivation, Phosphate and Electro-polishing which are for products made of carbon steel, stainless steel, aluminum alloy, and super alloys. In addition, we offer non-electrolytic coating services. We serve renowned customers mainly in the automotive, aerospace, high-speed rail, energy, superconductor, and medical industries.
Impro is equipped with automated production lines with real-time process monitoring systems, and automatic feeders for chemicals. We are highly valued by the customers for our fast response in new production development.  Our strong capabilities are backed by a technical team with decades of experience in this field. We develop and build racks and fixtures in house. Along with our array of surface treatment capabilities, we provide value-added logistics solutions such as pick-up and delivery by our own fleet, testing, part identification, assembly and more.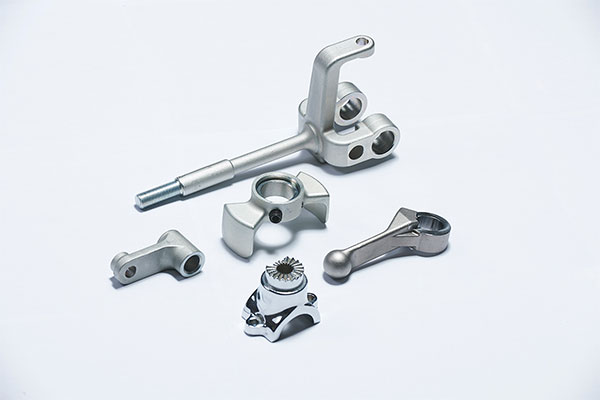 SURFACE TREATMENT ANIMATION
process used to change the surface properties of a metal part by adding coating onto its surface.
Surface Treatment Processes and Capabilities
| Process | Annual Capacity | Suitable for |
| --- | --- | --- |
| Zinc Plating | 16,000,000 m2 | Environmental non-cyanide zinc plating on steel, powder metallurgy, and casting parts |
| Chromium Plating | 300,000 m2 | Hard chromium plating on the steel parts |
| Zinc nickel alloy | 25,000,000 m2 | Zinc nickel alloy plating on the steel and casting parts |
| Zinc iron alloy | 12,000,000 m2 | Zinc iron alloy plating on the steel and casting parts |
| Copper-Nickel-Chromium Plating | 14,000,000 m2 | Copper-Nickel-Chromium Plating on steel, stainless steel, aluminum parts |
| Aluminum Anodizing | 400,000 m2 | Anodizing and hard anodizing on a normal aluminum profile, machining and die cast aluminum parts, and all kinds of chemical conversion |
| Painting | 1,000,000 m2 | Painting and dry film on aluminum, stainless steel, and steel parts |
| Electroless Zinc rich coating | 2,500,000 m2 | Electroless Zinc rich coating on the steel parts |
| Nickel Plating | 800,000 m2 | Electroless nickel plating on steel, stainless steel, and aluminum parts |
| Copper Plating | 300,000 m2 | Plating on the steel parts |
| Tin-zinc alloy | 500,000 m2 | Tin-zinc plating on the steel parts |
| Cadmium Plating | 5,000 m2 | Cadmium plating on steel and aluminum parts |
| Electroless nickel plating | 1000,000 m2 | Electroless nickel plating on steel, stainless steel, aluminum, and copper parts |
| Acid Cleaning | 5,000,000 m2 | Acid cleaning for stainless steel castings, heat treated parts, super alloy, aluminum alloy, and titanium alloy parts |
| Passivation | 800,000 m2 | Passivation of all kinds of stainless steel |
| Phosphating | 1000,000 m2 | Zinc and manganese phosphating of normal castings and machining parts |
| Electrophoresis | 1,700,000 m2 | Electrophoresis on the steel parts |
| Electrolytic polishing | 300,000 m2 | Electrolytic polishing on the stainless steel parts |
Surface Treatment Product Description
impro admin
2017-07-04T11:37:08+00:00
Specification: N67F 855 03
Plating type:Barrel Nickel Plating
Testing: Salt spray, Electrode bend no peeling
Application: Automotive