Impro wins second Outstanding Listed Companies Award
November 10th, 2023
(Hong Kong, 10 November 2023) — Impro Precision Industries Limited ("Impro Precision" or the "Group") (Stock Code: 1286), a world-leading manufacturer of high-precision, high-complexity and mission-critical components, is pleased to announce that the Group has been awarded the "Outstanding Listed Companies Award 2023" by the Hong Kong Institute of Financial Analysts and Professional Commentators ("IFAPC"). The Group has received the Award for two consecutive years, proving that its visionary strategies and steady business growth have been fully recognised by the professional community.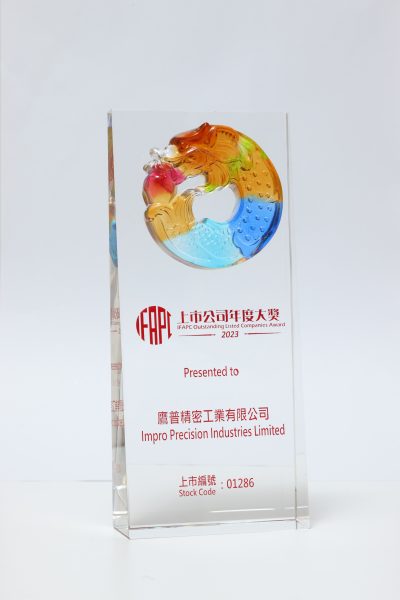 Mr. Lu Ruibo, Chairman and Chief Executive Officer of Impro Precision, said, "We are very grateful to the organisers for this high level of recognition for Impro for the second consecutive year. As the sixth largest investment casting manufacturer in the world, Impro is committed to providing high-quality products and services to our customers. Despite the challenging global economic environment over the past year, the Group has maintained steady growth in both revenue and profit. Going forward, we will continue to adhere to the strategies of 'Global Footprint', 'Diversified End-Markets' and 'Dual Engine Growth' to seize market opportunities and respond to challenges to maximise returns for our shareholders."
 Organised by the IFAPC and Metro Finance, the "Outstanding Listed Companies Award 2023" aims to recognise the business achievements of quality enterprises, demonstrate the steady growth of Hong Kong's financial market, and establish a set of corporate rating standards for the market and investors to refer to, thereby promoting the common progress of the industry and accelerating the economic development of Hong Kong and the entire Greater Bay Area.