What Impro's Mexican Expansion Means for North American Customers
July 7th, 2020
Global trade policies impact our customers in different regions around the world. It can impede customer demand, slow down supply chain capabilities and raise production costs. To offset these hurdles and provide more vertically-integrated solutions to North American customers, Impro's high precision machining and casting operations are expanding into the Mexico region. Our precision machining operations will begin at our new location at WTCII Industrial Park, which is only 18km south of our current facility and 45km south of the San Luis Potosi International Airport.
Impro's Mexico Manufacturing Capabilities
Our 2,053,776 square foot facility features a Precision Machining Plant (IMMX-PM), Sand Casting Plant (IMMX-SC), Investment Casting Plant (IMMX-IC), Aerospace Components Plant (IMAM-AC), and Surface Treatment Plant (IMAM-ST). This unique one-stop-shop opportunity will allow our manufacturing capabilities to be accessed throughout North America, as customers can take advantage of high precision, high complexity and mission critical component manufacturing processes.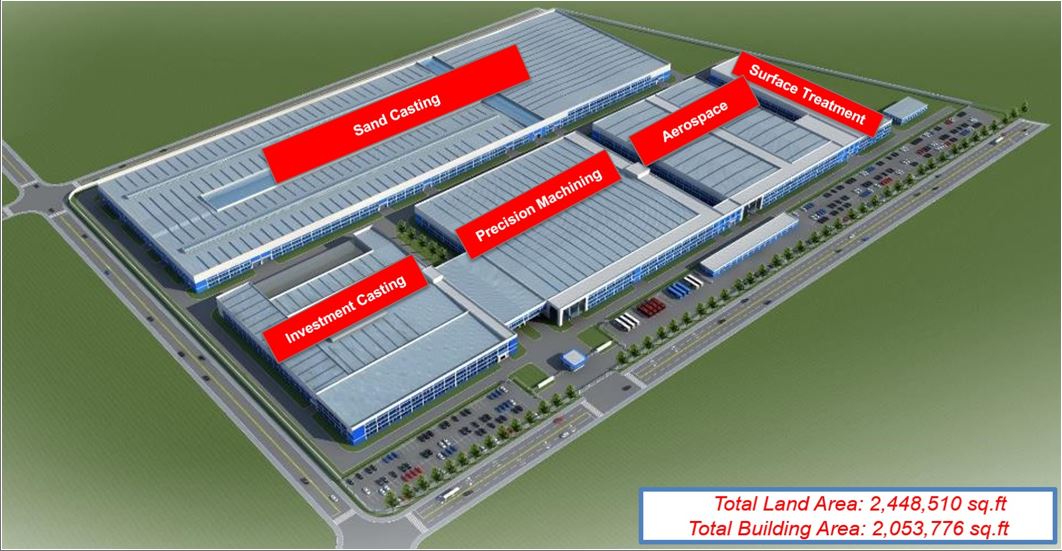 Precision Machining Plant (IMMX-PM)
We're expanding and consolidating our currently leased precision machining plant to our own precision machining plant building. We have the latest state-of-the-art CNC machines, gun drilling machines, electrochemical machining as well as automated inspection and assembly lines to produce components to our customer's in diverse end markets such as automotive, agriculture equipment, construction equipment, hydraulic systems, high horsepower engines, and recreational vehicles
Sand Casting Plant (IMMX-SC)
Our Sand Casting Plant equipped with the latest technology of automatic molding and pouring lines will house sand casting, heat treatment, secondary machining and cleaning operations. Our new facility will allow for a projected capacity of 62,000 tons a year, including 46,000 tons/year for green sand castings. We're able to provide low to high volume output.
Investment Casting Plant (IMMX-IC)
The Investment Casting Plant uses a wax pattern (lost wax) process to create mold patterns surrounded by ceramics. Our new plant operations offer investment casting, heat treatment, secondary machining and cleaning as we will be able to turn out an estimated 3,000 tons/year in production capacity.
Aerospace Components Plant (IMAM-AC)
At Impro, our Mexico plant expansion features an Aerospace Components Plant for parts and components of complex geometry and are difficult to manufacture. Our operations provide casting, heat treatment, secondary machining, cleaning, plating, NDT and other special processes. When customers are looking for lightweight, high performance parts with a quick turnaround time, our new plant can meet any customer demand.
Surface Treatment Plant (IMAM-ST)
We are also establishing a Surface Treatment Plant to support our manufacturing needs in Mexico. Our plant offers plating, coating and other processes. This finishing technique can improve wear resistance and corrosion resistance as parts will last longer. This process also offers decorative functions.
Mexico Plant Expansion Benefits
Impro realizes that with the NAFTA/USMCA trade agreement and global trade policies promoting on-sharing and near-shoring procurement activities, customers will be placed into a bind of paying higher prices for precision casting and machining processes made overseas with less options. They would need to receive the components and parts that are needed for applications for both low volume and high volume production runs. However, the trade policy may limit which component manufacturing suppliers that they can work with. This problem can even leave customers stranded due to the higher cost of operations.
By providing a high efficiency component manufacturing plant in Mexico, Impro can take advantage of a low cost region that is within the NAFTA/USMCA free trade agreement. This strategic location gives us the opportunity to provide our services to customers throughout North America while expanding our core business operations now and into the future.
Customers gain full access to our expanded capabilities that provides an enhanced and shorter supply chain. They can obtain sand casting, precision machining, investment casting, aerospace components manufacturing and surface treatment services through one campus. Customers can meet their time-to-market deadlines with our "Local for Local" supply strategies and our proximity to the USA.
When you are looking for complex component machining and casting productions, turn to Impro at our new campus operations in Mexico. We are the global leader for component manufacturing for the automotive, construction equipment, agriculture equipment, hydraulic systems, aerospace, medical, energy and other industries.