Impro Honoured as "Excellent ESG Enterprise of 2020-2021"—Gains wider market recognition for promoting sustainable development
November 17th, 2021
(Hong Kong, 17 November 2021) – World-leading manufacturer of high-precision, high-complexity and mission-critical casting and machined components, Impro Precision Industries Limited ("Impro" or the "Group") (Stock Code: 1286) has been named "Excellent ESG Enterprise of 2020-2021" in the "Excellent ESG Recognition Scheme" organised by the Hong Kong Economic Times (HKET). The award is a wider testimony to the Group's efforts in driving sustainable development within the market.
Mr. Lu Ruibo, Chairman and Chief Executive Officer of Impro, said, "We are gratified to gain recognition from professional judges and garner this accolade among other enterprises. As an industry leader with a global footprint, Impro has infused 'corporate social responsibility' and 'sustainability' into its policies and guidelines. We insist on low carbon emissions, energy saving and consumption reduction in our manufacturing procedures. At the same time, we continue to improve our corporate governance and have established a diversified governance structure to proactively address the complex and changing macro environment. Looking ahead, we will continue to strive for excellence and innovation and work closely with customers, suppliers and other stakeholders to build a more sustainable future."
The "Excellent ESG Recognition Scheme" organised by HKET aims to recognise companies from various sectors which have delivered outstanding performance and a positive impact in the area of ESG. The judging panel comprises industry experts, scholars and rating agencies engaged in ESG activities. The theme of this year's Scheme is "ESG New Normal" which focuses on the ability of companies to navigate future uncertainties. Companies with high ESG indicators tend to be more resilient.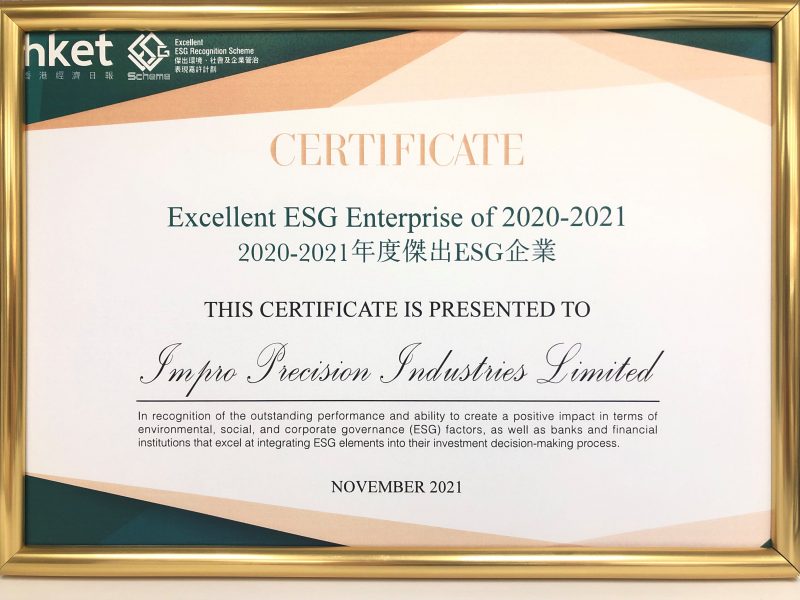 Impro honoured as "Excellent ESG Enterprise of 2020-2021"