Impro Named "Listed Enterprises of the Year 2021" By Bloomberg Businessweek Chinese Edition
November 30th, 2021
Excellent business performance gains professional recognition
(Hong Kong, 30 November 2021) – World-leading manufacturer of high-precision, high-complexity and mission-critical casting and machined components, Impro Precision Industries Limited ("Impro" or the "Group") (Stock Code: 1286) has been named "Listed Enterprises of the Year 2021" by Bloomberg Businessweek Chinese Edition, an influential business magazine in the Greater China Region. It received commendation on eight major aspects, namely business/financial performance, corporate governance, investor relations, development strategy, corporate social responsibility, sustainability, innovation and risk management, and also for its contribution to the Hong Kong economy.
As the largest investment casting manufacturer in China, Impro offers one-stop solutions that entail initial research and development, tooling design and manufacturing, casting, heat treatment, precision machining to surface treatment, and products for diverse end-markets in more than 30 countries and regions. Aware of customers' demand for local manufacturing and geopolitical situations breeding potential supply chain and tariff risks in recent years, the Group rolled out a "Twin Source Production" strategy and expanded its production lines to Mexico to serve end-markets, such as automotive, construction and agricultural equipment, high horsepower engine, hydraulic equipment and aerospace and medical, in North America. The strategy has given it greater flexibility in business operation and has helped improve its overall operational performance.
Mr. Lu Ruibo, Chairman and Chief Executive Officer of Impro, said, "Impro feels incredibly honoured to be named among Listed Enterprises of the Year. Embracing the core values of Pragmatism and Efficiency, as well as Pursuit of Excellence and Innovation, we have continuously improved our business performance, as all can see. This latest recognition will give us the drive to work harder still and forge ahead with innovation. Moreover, we will keep honing our core strengths to consolidate our leadership in the different end-markets. We are committed to growing into an industry leader and a reliable and flexible global business partner."
Bloomberg Businessweek Chinese Edition has presented the "Listed Enterprises of the Year" honour for six consecutive years. This year's panel of judges comprised leaders from governmental organisations, the academia and professional bodies, who thoroughly assessed candidate companies based on Bloomberg data, then rigorously selected 10 Hong Kong-listed companies that afford the most outstanding all-round performance. The awardees this year have come from such sectors as real estate, industrial, telecommunication, education, finance and biotechnology.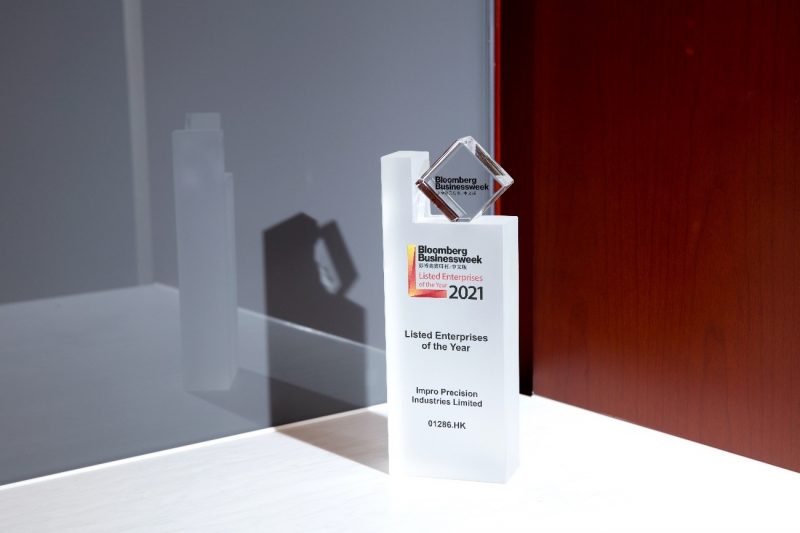 Impro garners "Listed Enterprises of the Year 2021" from Bloomberg Businessweek Chinese Edition.