Impro Garners Hong Kong Economic Journal Listed Company Awards of Excellence 2021
December 14th, 2021
Outstanding Performance Gains Market Recognition
Continues to Move Forward amid "New Normal"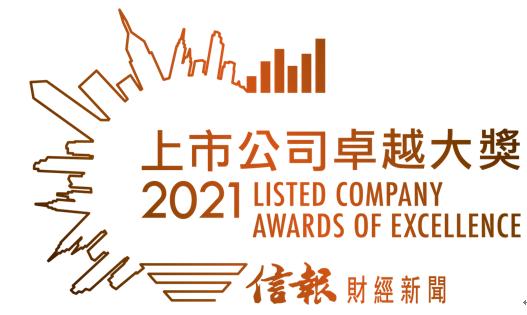 (Hong Kong, 13 December 2021) – World-leading manufacturer of high-precision, high-complexity and mission-critical casting and machined components, Impro Precision Industries Limited ("Impro" or the "Group") (Stock Code: 1286), is pleased to announce that the Group has been honoured with the Listed Company Awards of Excellence 2021 presented by the authoritative financial media Hong Kong Economic Journal (HKEJ). The accolade is strong market recognition of Impro's success in focusing on high-precision, high-complexity and performance-critical castings and precision machined parts over more than two decades.
Mr Lu Ruibo, Chairman and Chief Executive Officer of Impro, said, "In 2021, as pandemic remains volatile, the global supply chain has been restricted and manufacturing and operating costs have kept rising. Amidst such difficult circumstances, Impro has demonstrated strong business resilience and development potential, while maintaining stable operations and actively expanding its business. With the eventual completion of five plants at the SLP Campus – our North American production base in Mexico, the Group would have 19 modern production plants on three continents, adding greater flexibility to our business operations. In the future, we will continue to expand our core business and persist in pursuing innovation and upgrades, aiming to provide customers with better products and services and creating greater value for our shareholders".
As the seventh largest in the world and the largest investment casting manufacturer in China, Impro provides a complete set of vertically integrated value-added solutions in the chain of precision components encompassing research and development, tooling design and manufacturing, casting, heat treatment, secondary precision machining and surface treatment. With sales to more than 30 countries and regions around the world, Impro's diversified end markets and geographical coverage stand out among its peers.
HKEJ has organised the "Listed Company Awards of Excellence" for the sixth consecutive year. The judging panel evaluates listed companies with outstanding performance in a professional, objective and conscientious manner to acknowledge the efforts of the honoured companies during the past year and provide investors with a valuable reference leading to more fruitful investment opportunities. The award also enables people from all walks of life to better understand outstanding listed companies.